After the two successful projects offering luxury apartments  Akademia and Mon Paradis in Kalamassery, Dreamflower Builders in Cochin comes up with another apartment project Dreamflower Estella apartments in Kalamassery.  Estella will be offering 18 Premium flats in Kochi in 18 Cents of land with 13 units of 2BHK and 5 units of 3BHK.
Attractive combinations of good roads, hospitals, educational institutions, hotels, shopping malls and famous places for worship have turned Kalamassery into a locality that is a favorite hub for investing in Cochin. The supreme advantage of having an apartment in Kalamassery is its Location that ensure walkable distance to NH-47 and the location for proposed Kalamassery Metro Station. Cochin University (CUSAT) is also at a short distance to Estella apartments.
Kamalassery is expected to rise as a major residential point outside the cochin city limits considering the developments in infrastructure and transportation. A calm and quite location away from the rush city and yet offering easy access to major destinations across the city, is what Kalamassery is all about.
Dreamflower Estella is offering 2 bed room and 3 bed room luxury apartments with enough space and premium facilities.  There are 4 floor plans to select from in Estella apartment designs. The 2 BHK Estella apartments processes a floor area around 950-1035 sq ft. The 3 BHK apartments will be ranging around 1400 sq ft.
Lets have a quick look at a sample Estella apartment floor plan.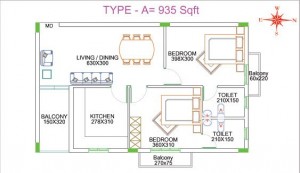 Estella Flats floor plan
The floor area details of a 2 BHK Estella apartments in Kalamassery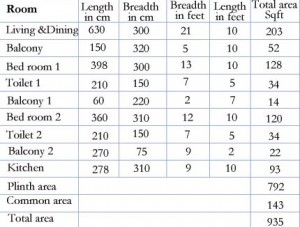 Estella apartment Area specifications
Dreamflower Estella apartments in Kalamassery definitely will be a valuable addition to this small town of Kalamassery expecting more growth in real estate investment in residential sector. The experience of Dreamflower builders as one of the most trusted builders by delivering promises on time will be the highlight of Estella as the project progresses.
For more details and bookings click here