With real estate prices going through the roof, finding a comfortable apartment at an affordable price at a good location is near to impossible! People often waste away their entire lives in this mere dream that never materialize..
Have you taken that significant decision to own a home in Cochin City? Check out Dreamflower Ibiza at Kaloor – a sublime expression of graceful living! If you are considering Ibiza to make your new address then that can prove to be one of the best decisions of your life considering the classy amenities provided in the apartments.
Ibiza is launched by the premier builders in Kochi – the Dreamflower Builders who are behind the success stories of several true value for money residential projects in Cochin & its suburbs. Mon Paradis, Kalamassery, Casa Bella, Vytilla, Claire, Thevara and the list goes on and on…
An enviable location you cannot miss…
Cochin has emerged as the best city to live in India followed by Kozhikode according to recent studies conducted. The emerging IT parks and the phenomenal growth of the city has prompted more and more home seekers to invest in the city.
Dreamflower Ibiza is located just 50 m from Kaloor Kathrikadavu road in an idealistic and strategic location. Kaloor is one of the destinations of choice for home owners as it provides the best connectivity throughout the Cochin city & all forms of public transport are easily available from this location. There are lots of buses going through the Kaloor Bus stand and the apartment lies close to the proposed Metro Station at Kaloor. Major hospitals and educational institutes lie in the near vicinity of Dreamflower Ibiza.
Major educational institutions including schools like KendriyaVidyalaya, St. Albert's High School & Colleges like Maharajas College, St. Albert's College and St. Teresa's College are all located within reachable distances of Ibiza & you can also have a ready access to major healthcare providers like PVS Hospital, Lisie Hospital, Medical Trust Hospital etc. from the Ibiza location.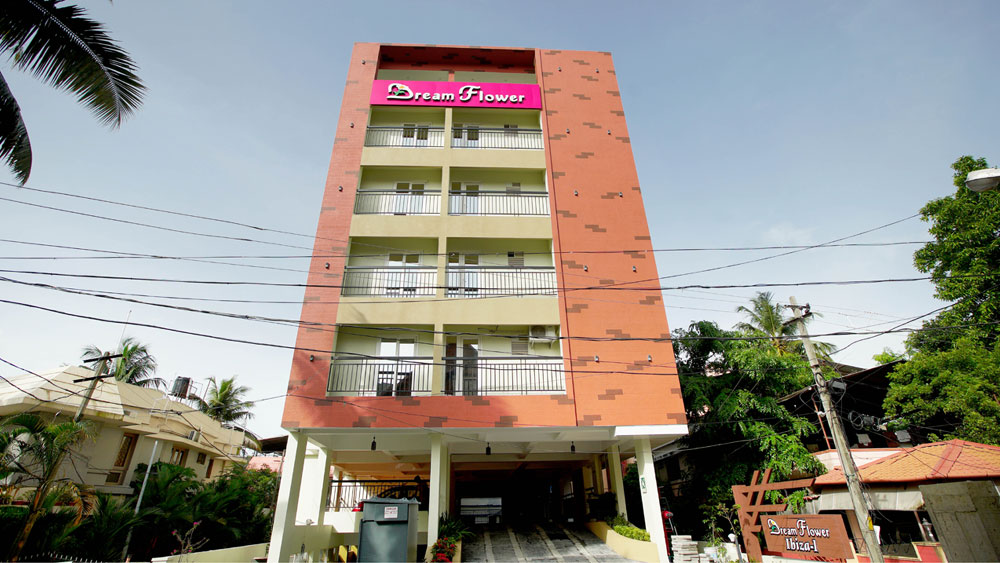 Flats in Kochi
A sneak peek on Ibiza
Location, convenience, amenities all fall right into place at Dreamflower Ibiza! Standing proud with 16 Premium apartments in Kochi (8 units of 3 BHK & 8 units of 2 BHK), Ibiza features very spacious, naturally ventilated and exceptionally well-designed 3 and 2 bedroom apartments per floor, which offer breathtaking views of the surroundings. It's a basement plus ground plus four floor building and each flat comes with a private parking for the resident.
There are several amenities in this project for recreation like the Health Club & the Association Hall to host private parties and events. All the apartments in this project have access to facilities like Lift, DG Backup, Centralized Gas Supply, Lobby & Fire Fighting Systems.
Ibiza is all about providing you with the state of the art features being a perfect blend of strategic location coupled with great surroundings and perfect ambience. This project is a highly affordable one and gives its residents complete value for money.
Dreamflower Ibiza ensures that you are living a perfect life in your abode in which you can cherish your never ending memories….
There is nothing like staying in a real home for comfort – the Dreamflower Ibiza!